How not to lose over $250,000 when selling your home…
How not to lose over $250,000 when selling your home...
Yes, it is an incredibly hot sellers market so how do you lose over $250,000 if you sell your home in this market?
It's easy, all you have to do is follow these steps. Or better yet, our recommendation is to NOT follow these steps if you don't want to lose $250,000+!
Have you heard of "exclusively marketed", "off-market", "direct to buyer/builder", "whisper listing", "office exclusive", terms? These all refer to a style of "selling a home" that ignore the basic rule of selling, exposure, exposure, exposure. These terms are touted by agents to push a ploy to sell your home to their own buyers without exposing it to the wider buyer community.

Why? Let's get "down and dirty" to explain why this happens.

Firstly, let's talk about the professional fees that are payable when you sell a home. In most towns in the area, typically a fee of 5% of the sale price is payable when selling a home. This is typically split equally by the listing agents company, and the buyers agents company. Rarely, the buyers agent company and the listing agents company are the same company. In this scenario, the listing agents company receive 2.5% of the sale price, and the buyers agent company receive 2.5% of the sale price. This information is useful to know when explaining how some agents are pushing the 'benefit' (NOT) of selling with one of the terms described below.

Now, lets talk about what happens when an "exclusively marketed", "whisper listing" or "office exclusive" sale happens. Firstly, these terms are an oxymoron. How is a home considered exposed (marketed) to the market when it is only shown to a few buyers within one company? Anyone who understands marketing will tell you that the mantra of "exposure, exposure, exposure" is not happening when a home doesn't come on MLS (and subsequently hundreds of real estate portals e.g. Zillow, Redfin, Realtor.com etc) and is exposed to all the buyers who are out there looking for EXACTLY your home. So, why does an agent/real estate company push this, and why do some sellers fall for this scheme (aka scam), without doing more research about what the loss is that they will experience using this technique?

Sometimes an agent/company will promote this as saving a seller money by reducing the fee to sell the home. Let's look at some data which will show why this is a really, really bad idea !
Here is the data, and explanation, of why this scheme is going to lose a seller around $250,000.
How do we "know" what the financial impact of this is? Bright MLS, which is the largest MLS in the country, and is found in 6 mid Atlantic states, found that a home which was NOT exposed in an MLS will sell for 16.98% LESS. This study was done over a period of 2 years, and looked at 442,829 homes. The study can be found at https://www.brightmls.com/article/on-off-mls-study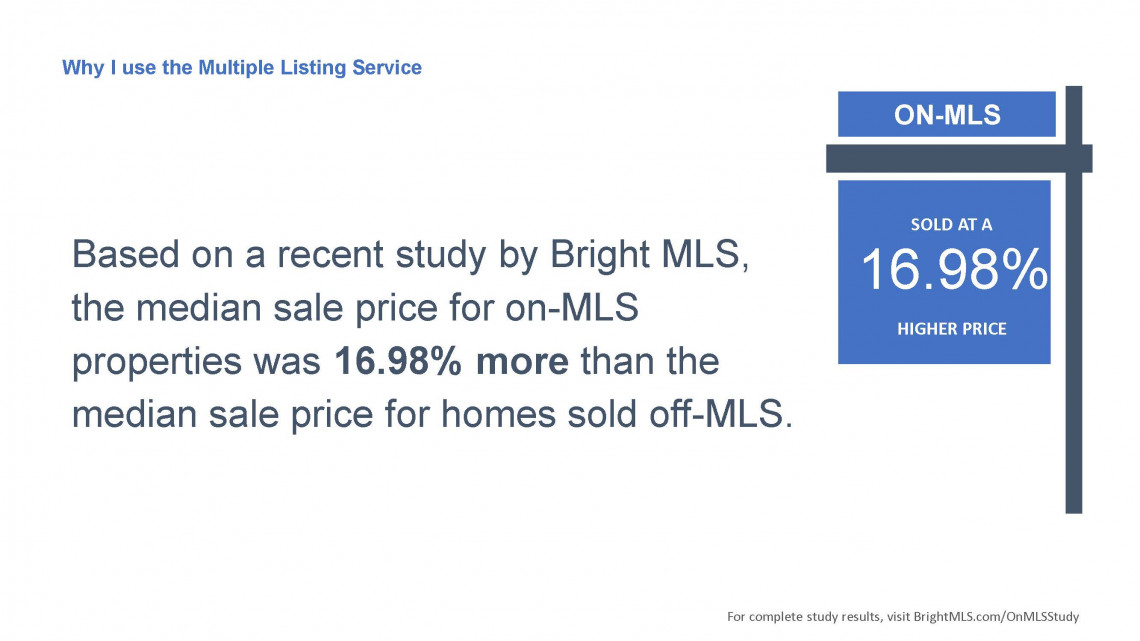 Some agents will promote these "office exclusives" as being beneficial to the seller because the fee to sell may be less. Lets give an example of where the fee could be discounted to 4% for selling their home in this "exclusive marketing" arrangement. A seller, at first glance, will think they are saving 1% on the fee for the sale of their home…fantastic they think!
But, for that saving of 1% on the professional fee, they are losing, on average, just under 17% on the sale price!

When you look at the actual impact of this, there are two major impacts.

1. The listing agent company is paid the full amount of the fee by not splitting it with a buyers agent from a different company, so instead of earning 2.5% (half of the typical 5% fee) the agency will be paid 4% . This is a bonanza for the listing agent company (not for the seller).
2. The sale price of the home, and the net of what the seller will obtain, is far less (on average 16.98% less based on the statistical analysis shown) than what the home would sell for by coming on the market in MLS.
The agents who promote selling a home this way KNOW that the home will sell for far less (on average 17% less) than it would if it came on the market in MLS, but sadly its more money for the agent, and the company they work for, and little regard is given to the seller whose largest investment is typically the home they own.
We see this happening all the time, and it is sad to see how many sellers lose so much money when selling their home by falling for this 'exclusively marketed', 'office exclusive', 'whisper listing' scheme. Please don't fall for it.
Note: How was the $250,000 loss mentioned in the title of this blog post derived? The average sale price of a home in a local, representative town of Lexington is $1,600,000. 16.98% of this value is over $250,000, specifically $272,000.
This is the magnitude of how much money a seller can LOSE by allowing 'exclusively marketed', 'whisper listing', or 'office exclusive' ploys used by some agents when selling their home.
Here is a graph that shows the distribution of sale price to list price, for a local town (Lexington), in 2021. The red line of 16.98% below the asking price, show's the impact of a seller selling their home as an 'office exclusive', 'exclusively marketed', 'whisper listing', or 'off-market sale' (based on the Bright on-off MLS market study). Again, don't fall for it. It will cost you money.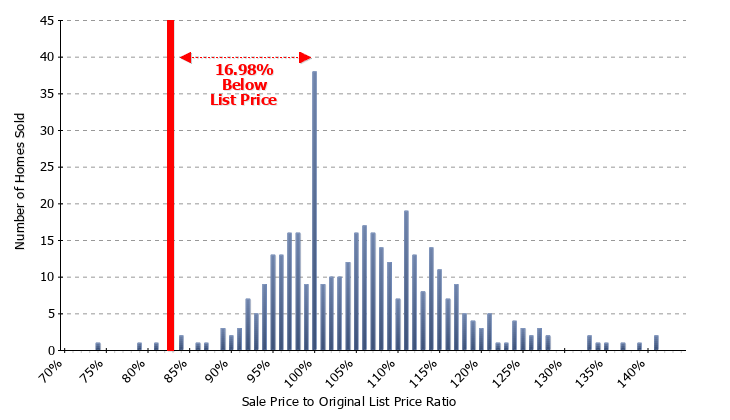 We covered the Direct to buyer/builder (teardown) comparison with what a buyer would pay for a home last month, and it can be found at Is My Home a Teardown?
We will be covering the 'Coming Soon' bad practices that some agents/companies employ next month. Hint: 'Coming Soon' pre-marketing is fine so long as the home is NOT SOLD while in a 'Coming Soon' state.