Should buyers delay until 2018?
Given the lack of available inventory and the many people looking to buy a home, today's housing market can be tough for a buyer entering the market. As we enter the end of the year housing market buyers are asking, "Should I delay my buying decision until 2018?"
The MA Properties Online Team recommends: NOT TO WAIT
Here's why: The primary reason most buyers delay their home search is because they say to themselves, "Next year will be better".
Better means some combination of:
More sellers
Fewer buyers
Lower home prices
Lower mortgage rates, resulting in lower monthly costs
1. Will we see more sellers in 2018?
Every agent in Greater Boston knows there are a large number of potential home sellers, many of whom will either become buyers of more expensive homes, or will look to downsize to smaller homes. But many of these potential sellers are delaying selling because they don't think they have sufficient equity in their homes. On the other hand, home prices have risen steadily in many towns over the last few years and even people who bought a home in 2005/2007 now have homes with significant equity in them.
The following charts show we will see more sellers entering the market. It may, however, take a few more years for the level of homes available for sale to rise to the point where we have a balanced market of an approximately 6 month home supply.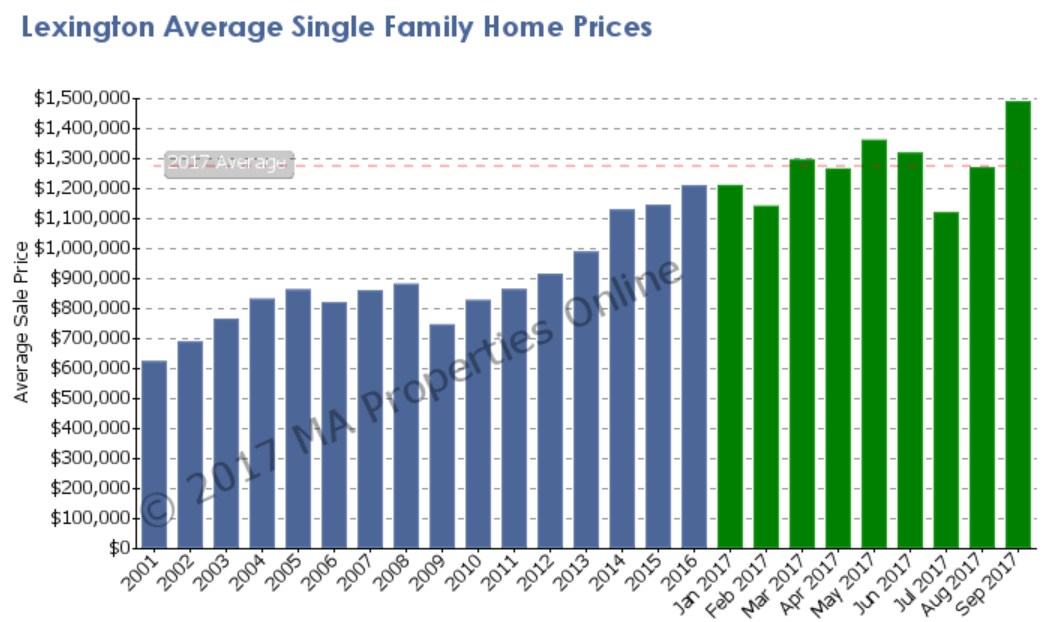 This is not universally the case as the comparable Average Single Family Home prices graph for Sudbury shows: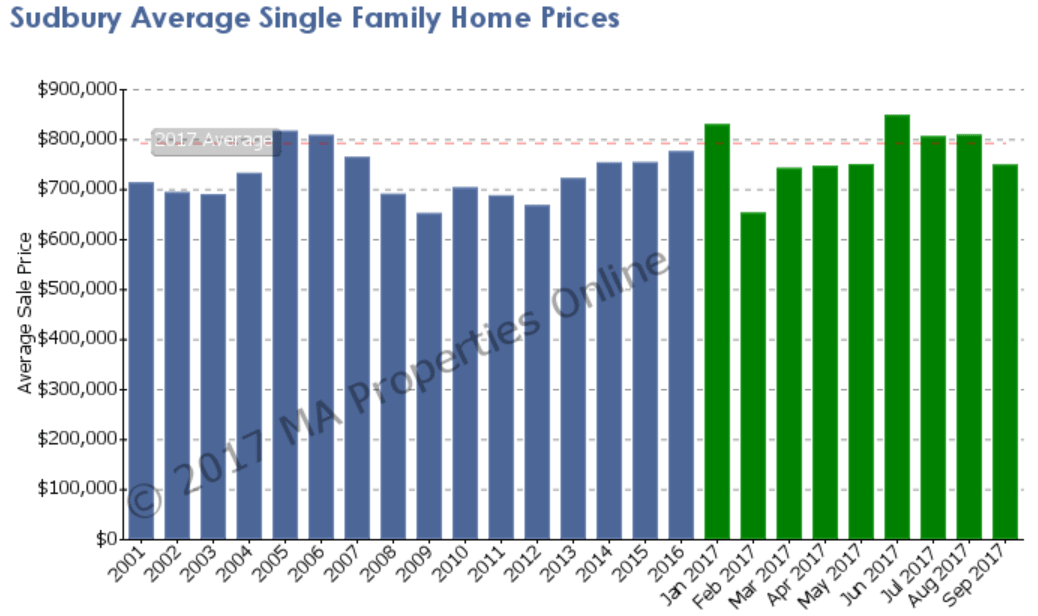 So, we will see more seller's entering the market but it may take a few more years for the levels to rise to the point where we have a balanced market (which is defined as approx 6 months home supply). As the Arlington's data shows we're still not at this balanced state and are very much still in a 'Sellers market'.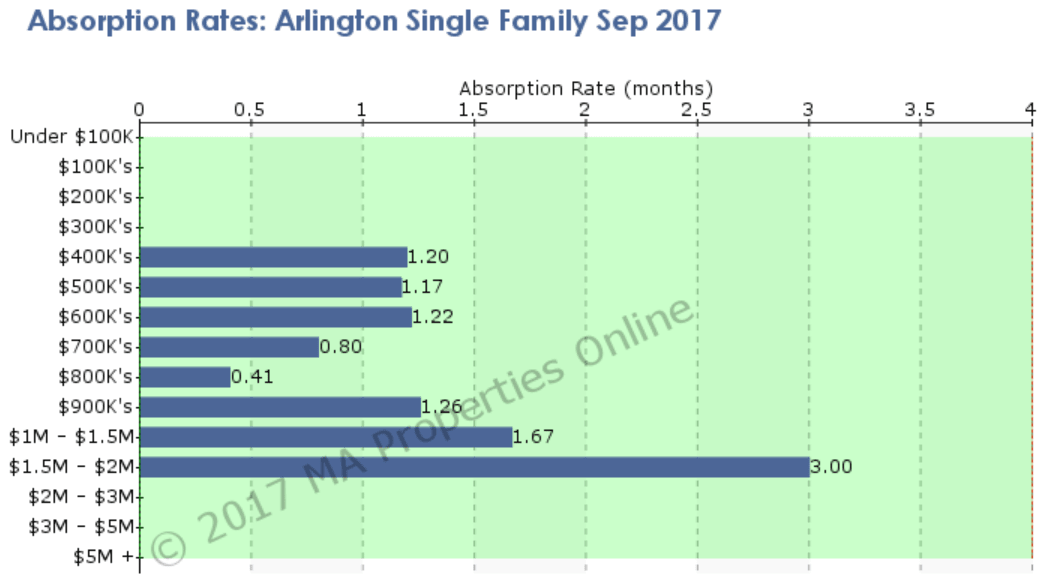 2. Will we see fewer buyers in 2018?
Every report we read says there are a large number of "millennial's" (those born between the early 1980s to the early 2000s) who are either looking to stop renting or are looking to move up from the 2-bedroom condominiums they bought a few years ago to take advantage of low prices, low mortgage rates, and government tax breaks. These reports indicate there will be an increase in the number of buyers in 2018.
3. Will prices be lower in 2018?
The charts above show that prices have been increasing for many years in the stronger markets and the data show that this home price increase is now also occurring in the 'less strong' markets as well. In some markets the rate of increase is arguably unsustainable but the data still show that overall nation-wide prices are still 16% lower than the highs of 2006/7. MA Properties Online along with the other analysts who track the national trends do not see a decrease in housing prices any time soon.
This graph shows a range of opinions on cumulative price increases over the next 4 years:
4. Will mortgage rates be lower in 2018?
This next graphic shows that mortgage rates are expected to rise in 2018.
Also, we have seen a slight reduction in the FICO Credit Score requirements to get a mortgage.
In conclusion our analysis shows that in 2018:
We will see more sellers in the market
We will continue to see an increasing number of buyers entering the market
Prices will continue to increase as demand (buyers) exceeds supply (sellers)
Mortgage rates will rise and the FICO requirements are reducing
Should you therefore delay?
Delaying the purchase of your home could result in increased home prices, higher mortgage rates, and increased competition with a growing pool of buyers. We recommend you continue to look as the right home, in the right location, at the right price, may already be there.
The MA Properties Online Team knows it's not just about buying a home it's about buying the RIGHT home. Our focus on information using real estate statistics and quality information while working closely with our buyers to understand their needs and wants means that buyers who work with our team make the right choices. As a seller, the information we provide the potential buyers of your home will make a difference in the final sale price.
If you're trying to figure out how you decide on a buyers agent with all of the agents out there, we published an online magazine JUST FOR YOU! The 'Top-10 Questions to ask a Buyers Agent' will answer all of the questions and more, that you should be asking. Check it out for yourself by clicking on the link! Top 10 Questions to ask a Buyers Agent
We understand that buying and selling a home is extremely stressful for most people, but we believe that if you have as much information as possible about the whole process and the steps involved have clarity and you know what to expect in each step, then you will be much more comfortable about the whole thing. This is why we run FREE Home buyers seminars - and we even provide pizza! Come and ask as many questions as you want while in a casual environment. For more information click on the Sign Up now button below! We look forward to seeing you.